Welcome to our Women's Self Defense workshop!
This class offers valuable tools to effectively protect your self in various situations.
It's important to recognize that women have distinct physical characteristics from men. Men are generally larger and stronger, so it's crucial not to try to fight like them. Don't be misled by movies depicting female heroes effortlessly defeating men in combat.
Instead, embrace your feminine strength and fight naturally and fiercely!
This workshop gives an introduction to some valuable skills, but is not a substitute for the understanding gained from ongoing lessons.
The training exercises focus on utilizing the most effective anatomical weapons available to women, taking advantage of the strength in our hips and legs. We'll start by practicing these techniques individually, gradually progressing to apply them on padded shields to target specific areas of the attacker's body. In the final stage, we'll test our skills by stringing the moves together against training partners and simulated attackers.
Throughout the workshop, you'll learn crucial techniques such as punching, kicking, blocking, and escaping wrist grabs. Additionally, we'll provide guidance on how to handle situations if the fight goes to the ground.
When Can I Attend?
Coming up! The next workshop has been scheduled for:
Saturday, October 14, 2023
4:00-6:30pm
CLICK HERE TO SIGN UP
To find out when our next Women's Self Defense Workshop is scheduled, please refer to our Class Schedule or Contact Us directly.
If you have a private group, such as Women's Groups, Girl Scouts, American Heritage Girls, Church Groups, etc., Contact Us and we would be happy to schedule a session for your organization. If you have any questions or need more information, please give us a shout.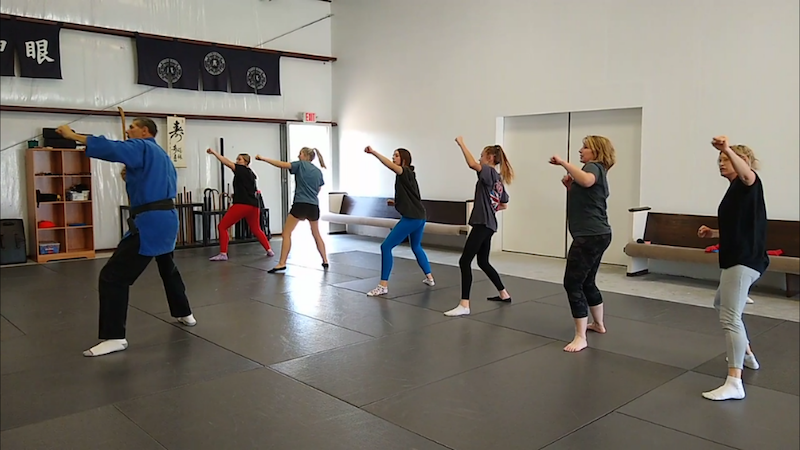 ---
Continued Training
It is our experience that ongoing training is the best way to achieve skills that stay with you, become part of you. Please understand acquiring this skill set takes time.
If you are looking for ongoing unarmed training our Adults Martial Arts class is what we recommend. We teach a Japanese martial art that is practical, well rounded and self defense focused. We encourage you not to be intimidated by this class because of what you might imagine it to be. Our training environment focuses on learning technique and applying proper body mechanics, rather than muscling something to make it work. Come and see for yourself what it is about to get the best information. Schedule a Free Introductory Class.
If you need personal protection right away, we suggest firearms training. We have a full program that not only gives a student the practical application and mechanics of using the firearm, but also lessons in survival mindset, tactics and strategy for self defense.
We look forward to being of service to you and helping you achieve your self defense goals!
---
Engage with us on Social Media!