Gigi Simmons started her pistol training in Nevada, in the Spring of 2008 with Beyond CCW's Practical Pistol Course. In 2010 she began Tactical Rifle Training. She has continued to study and train since then to further her knowledge in the discipline of firearms use for self defense. Gigi began training in the traditional Japanese martial arts of Ninjutsu and Jujutsu in 2008 and continues training to this day. In 2015 she began her journey into teaching the martial arts. Here at Shin Gan Dojo, Texas she continues her own training while instructing students of this art.
Her Story
What was it like?
I was scared. I was getting out of a long-term abusive situation. I was cleaning up my life. After removing myself from the situation, things were continuing to happen, such as my ex-husband kicking in the front door or breaking in my house in the middle of the night to terrorize me. I did not want to be a victim anymore.
What happened?
I was ready to take responsibility and positive action to protect my own life and my kids.
I had a friend and co-worker whose husband taught the class for obtaining a permit to carry concealed (CCW). My friend knew some of what I was going through and offered to cover the cost of the class and let me borrow her pistol for the live fire qualification portion.
I didn't have any previous skill or much experience with firearms.
During the class I didn't have any trouble learning and understanding the theoretical portion of the class that went over the law and technicalities of what's allowed and what's not. My friend and her husband helped me with the shooting portion of the class enough to pass the qualification.
I still felt seriously inadequate to deal with a life and death threat. The possibility of a life threatening attack was very real for me. While book learning is fine and good, I really felt like I needed practical hands on instruction on how to handle the pistol with confidence and skill. When I asked the CCW Instructor, what's next? How do I learn how to actually USE the gun? The Instructor referred me to Brian Simmons. 
From Brian, I learned about safe and effective equipment, how to draw correctly, how to draw safely from a concealed carry position, how to handle malfunctions in action and under stress, how to load my gun on the move, moving and shooting, how to use a flashlight in conjunction with my pistol and be safe in low light or in the dark. I learned about mindset and situational assessment, tactics and so much more.
These are the principles we continue to teach today.
What is it like now?
I am armed everyday with little exception. I am comfortable and confident. I learned that carrying in a purse was not an ideal solution for me. I carry on my body to ensure my gun is with me at all times. I am confident in how I carry, my ability to handle myself, and my firearm under any condition.
Fashion is no hindrance. I've worn professional suits, dressed up for special occasions, everyday casual wear, even yoga pants, and various tactical attire. I have made modification to clothing and made some compromises in how I choose to dress over the years to better accommodate my commitment to carry everyday under all conditions. However, I have not found attire to be a limiting factor. Today, I am able to share my perspective and wealth of experience with our students, especially ladies.
Author: Gigi Simmons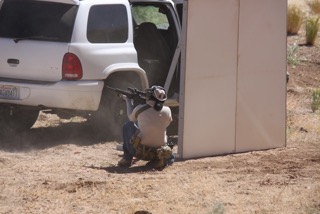 ---