This page will provide you with some general information and over view of some of the training we provide.
We believe that learning to use a firearm for personal protection is the fastest and most expedient way of gaining skill to protect oneself. It is the great equalizer. We have a handgun training program that will teach you everything necessary to use the firearm for self defense.
Handgun training will provide you with skills and knowledge to protect yourself and your family.
Beginners
If you're a beginner, we have a proven curriculum that will give you the tools needed for:
Absolute Safety
Equipment and Modes of Carry
Loading and Unloading
Hands on Manipulation
Proper Sighting Principles
Marksmanship Principles
Proper Shooting Postures
Overcoming Malfunctions
Self Defense Tactics
Harries Flashlight Techniques (low-light/no-light scenarios)
Plus we answer all your questions and address your weaknesses…
Experienced Students
If you're an experienced shooter, we can help you fine tune and clean up all aspects, including posture, presentation, trigger control, sight picture analysis, low-light procedures, strategy, situational assessment, and more.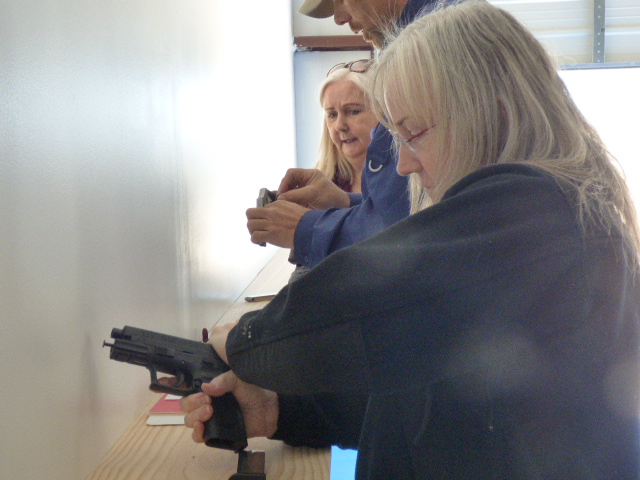 Curriculum
We teach from structured curriculum developed from our experience. This adds consistency to content and quality. We are flexible and maintain the ability to adapt to the learning styles and experience levels of each student.
Safety Training
Basic Safety Rules
Equipment and Modes of Carry
Safety Manipulation Training
Loading and Unloading Manipulation
Press Check Manipulation
Dry Firing Drills
Sight Alignment Exercises
Sight Picture Exercises
Trigger Control Exercises
Low Ready Position
Pistol Presentation (Drawing the Pistol)
Magazine Change #1
Immediate Action Drill for Malfunction #1
Magazine Change #2
Immediate Action Drill for Malfunction #2
Introduce Shooting Position #2
Introduce Shooting Position #3
Drawing from Concealed
How to Search and Clear
Harries Flashlight Technique (low-light/no-light scenarios)
Moving with the Pistol / Footwork
Drawing and Moving
Throughout the course of training there will be regular review and repetitive practice of skills learned
Live Fire Days
Basic Drills – put into action the skills learned and practiced during dry-fire
Incorporate Recharging Drills / Magazine Changes
Immediate Action Drills / Malfunction Drills
Practice New Shooting Positions
Drawing from Concealed
Incorporating Search and Clear concepts
Harries Flashlight Technique (low-light/no-light scenarios)
Incorporate Moving with the Pistol
Drawing and Moving
Understanding your strong points
Discovering your weaknesses – make corrections and note areas for additional focus during dry-fire training
Our experience shows that it takes about 40 hours of handgun training to progress through all of the material in this curriculum.
We provide continuing training beyond what is listed above. Talk with us about additional training and how we can meet your goals.
We offer different pricing options to fit your personal circumstances. Please see our Memberships page or give us a call to talk about the best option. Make a beginning. Get started training!